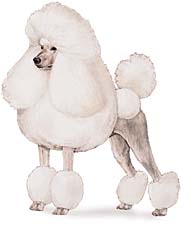 Welcome to Riverside Grooming and Pet Supplies! We offer the best in natural and holistic food, wonderful toys for your dogs and cats, treats, bedding, clothes, collars and leashes, grooming items, and much more! You'll always find expert advice and personalized help at Riverside. We stay on top of all the information so we can pass it on to you! Our Master Groomer, Betsy, does show clips as well as pet clips and treats your dog with extremely kind care. Drop in any day and we'll be pleased to clip your dog or cat's nails for just $5.00. See our grooming page for more information.
Contact Information and Directions
Furbies Are Evil!!
WARNING: This is not a website for those who cannot read.
FURBIES ARE VICIOUS!!!!!!! I bought one, expecting to have a world of fun, and my life was ruined.
Go here for the real truth, if you can stomach it.
---
Two of my dear cow friends Trixie and Kitty trying to be funny:
---
Damn cows.
---

This page has been visited
times.

---
WHAT AN EVIL THING!!!!!! Look at the way it's gross ears wiggle and the eyes flash!!!!!!! ACKKKKKK!!!! I can't look. And how that sickening beak opens and closes!!!!!!!!
This I Hate Furbys!!! site owned by Betsy Barker.
[ Previous 5 Sites | Previous | Next | Next 5 Sites | Random Site | List Sites ]
---
| | | | | |
| --- | --- | --- | --- | --- |
| Search for the Album or Artist of Your Choice! | | | | |